2020 has brought some major challenges to people around the world. As I reflect on this past year, I realize how fortunate I am to have survived such a tumultuous time when sickness and death became the norm, panic and worry replaced my serenity, and loneliness became my best friend. Still, as I write this, I am alive, well and sane to say the least. It also makes me wonder how I kept afloat all this time. Truth be told, pop culture has helped me through this year. Whether it was funny memes I came across on twitter, fans coming together to share memories and mourn the loss of their favorite celebs, or watching new movies and tv shows from the comfort of my couch — all of these things have helped to keep me sane in a year in which losing my mind was so easy to do.
Television shows, in particular, ended up high on my list of those things, oddly enough. For anyone that truly knows me, you'll know that it's a miracle that I'm even writing this article. Because if there are things I'm known for when it comes to TV, it's that I'm always behind, and I rarely make it past a pilot. But if I was ever going to turn a new leaf, what better year than 2020? And in doing so, I managed to keep sane throughout the last 8+ months while enjoying some dramatic, raunchy and sometimes cringe-worthy TV. So, without further ado, here are the TV shows I binged in 2020 that kept me sane (favorite = #1):
10) Pretty Tiny Things
Look, I'll be honest. Netflix's Pretty Tiny Things is a damn mess. From the acting (at times), to the storyline, and certainly to the raunchy & questionable relationships, this show turned my head for a lot of wrong reasons. But when you combine ballet, scandal and a good ole fashion murder mystery, it's a recipe for getting me to watch… no, hooked! Is PTT problematic most of the time? Yes. Did I hate almost all of the characters? Absolutely. But sometimes, a gal just needs to revel in and eat up other people's drama. Nothing more, nothing less.
9) Archer S11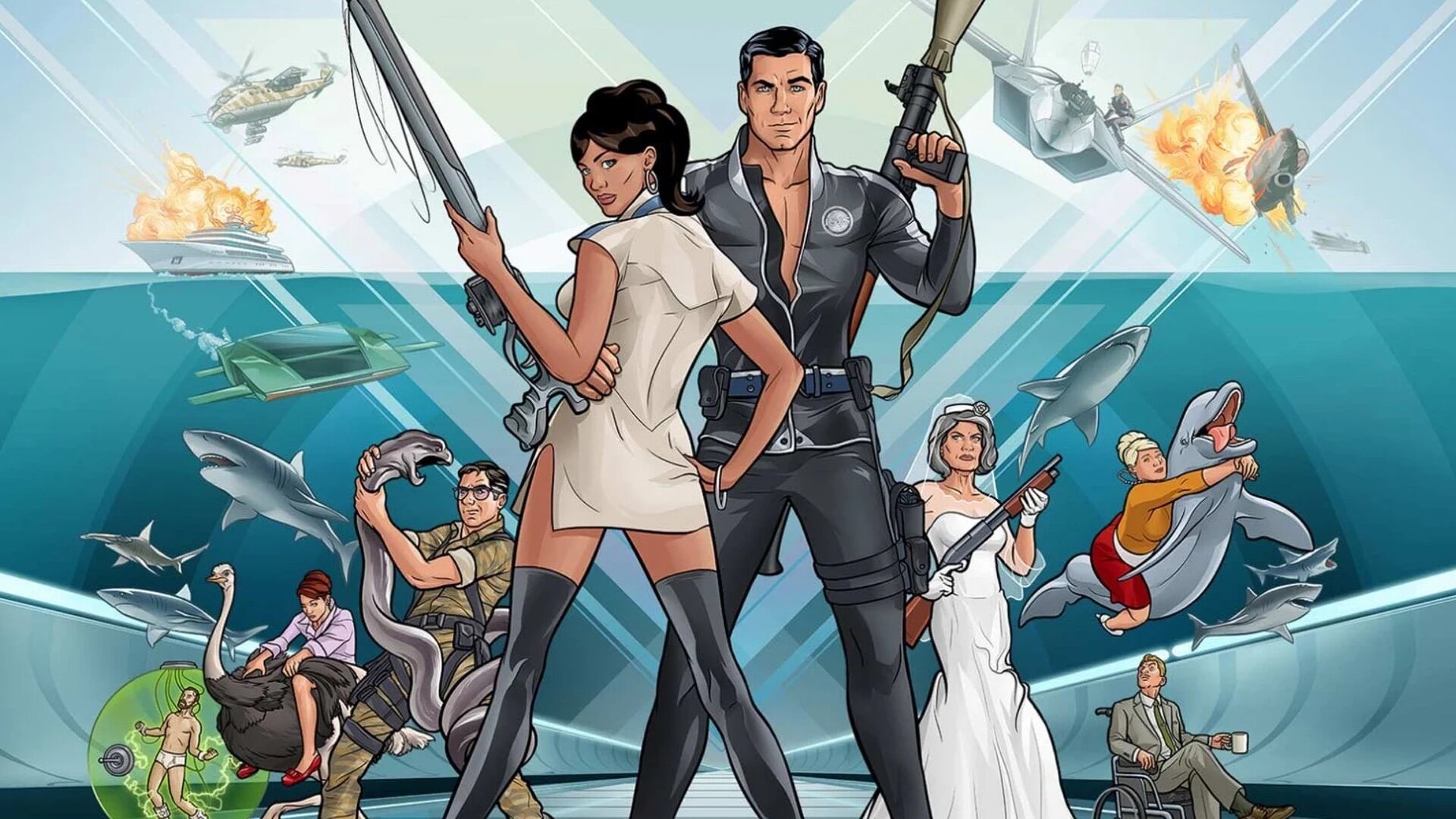 I couldn't believe my eyes when I not only read that Archer S11 was coming out, but that we would finally see Archer out of his coma. The show returned with most of the original cast, reforming the character interactions audiences have wanted to see again for so long. And for me, it did not disappoint. While the ending left much to be desired, Archer S11 reclaimed its glory, and an exciting new season is coming for us! (Ok…Are we seriously not doing phrasing anymore?) I can't think of a series more binge-worthy than this.
8) Little Fires Everywhere
No show I binged in 2020 angered me more than Hulu's original series Little Fires Everywhere. I barely liked any of the characters, and some of the storylines hit a little too close to home. But often times, these are the best kind of shows. The superb acting, led by Kerry Washington and Reese Witherspoon, are so grande. Their interactions and shade towards one another made me want to burn a house down… But don't worry, I opted for drinking wine instead. After all, I needed it to get through this one (this is a good thing).
7) Upload
There have been several films & television shows centered around death & the afterlife, but none quite made it such a joyous spectacle like Amazon's Upload. The show is gorgeous, the plot is creative, and it's just a great, friendly reminder that we should cherish those we love while they're alive. Because unlike the characters in Upload, there's no returning from the dead or holding their existence in captive for personal gain – a lesson most critical for 2020.
6) Lovecraft Country
I'm just going to put a disclaimer on this right now: this show is beyond weird. There are no ifs, ands, or buts about it. But it also showcases an incredible imagination, exceptional acting, and well yes, an incredibly hot cast. Magic, an all-star cast, and a little thing called Love? That's all I ever needed, and Lovecraft Country delivered. Did I also mention that this is a horror show? And it doesn't hide from this either. It's creepy at times and so damn bloody all the time. This horror adventure is exactly what I needed to take my mind off of the true horrors of 2020.
5) The Haunting of Hill House & Bly Manor
Ok, so I'm cheating a bit by grouping these together, but in my defense, I was way too scared to watch Hill House when it first aired. The Haunting of Hill House & Bly Manor are some of the scariest shows I've ever seen. But don't let the jump scares and dark scenery fool you into thinking they're one-trick ponies. The stories are incredible, the acting is exemplary, and the ability of them to make me feel are some of the things that helped me through 2020. The shows took two of my favorite things- family (Hill House) and relentless love (Bly Manor)- and made horror shows out of them. More series like this please. I honestly can't thank the cast & crew enough for such perfectly splendid work.
4) The Queen's Gambit
The way the world became captivated by the game of chess in 2020 is exactly how I thought the year would play out… In all seriousness, The Queen's Gambit brought back many fond memories of racing against the timer to checkmate my classmates. I even remember getting picked on for being in chess club when I was younger too. But 2020 saw the world come together and fall in love with one of the nerdiest games on the planet. Is that Anya Taylor Joy's doing? Most likely. But younger, nerdier, chess-playing me is enjoying this no matter the cause.
3) Bridgerton
When it comes to shows like Bridgerton on Netflix, I don't care one bit about historical accuracy. If I'm handed great writing, wonderful acting and decent drama, why should I? Netflix's Bridgerton checks all the boxes when it comes to being able to keep me hooked. It's sexy, dramatic and mysterious, and there's a lot to unpack during this royal 8-episode adventure. I couldn't ask for more. The fact is, however, the cast & crew did give me more- especially awesome women characters like Eloise and Penelope. The only thing I hated about this is that I finished it in one day, which left me burning for more 😉
2) Zoey's extraordinary playlist
You ever feel like a show was made for you? Yes, that's CORNY… I KNOW. Even I'm rolling my eyes at that statement. But this is exactly how I feel about Zoey's Extraordinary Playlist. It's HEAVY on the cheesy, but combining musical flair with a heartwarming story that made me bawl my eyes out at every moment it intended to is everything I needed in 2020 and more. I used to always joke that I wish my life was a musical- the kind where people burst out into song and everyone magically knows all the choreography. I got to live out my dream (through Zoey) with a great twist! But that's not all. If there's one takeaway that I got from this show and that I'd invite audiences to be open to, it's that music- not just instrumental or vocal, but the rapid heart beating we feel when we passionately desire someone, or hearing the sound of a loved one's voice one more time- is so damn powerful. And it's exactly what all of us could use a little more of in 2021.
1) Elite
The power of peer pressure is something else. It has led me to watch Netflix's Elite. Shockingly, what I thought was going to be another campy teen drama series actually drove me INSANE but for good reason. This Spanish thriller is so chaotic and steamy- delivering dramatic scenes one moment to unfolding a murder the next. But you know what? I am obsessed. I managed to binge watch all 3 seasons of this show twice in 2020, and I do not regret a single moment. It managed to make me laugh, hate, cry, and relate in many episodes, and it was nonstop, from beginning to end. Someone remind me to thank Bia for demanding me to watch this show. Because when it's all said and done, Elite provided some realness, a lot of drama, and everything in between to keep my anxiety at bay, making it one of the best shows I've seen in quite some time. Juntos hasta la muerte!
Thanks for reading! What shows got you through 2020?